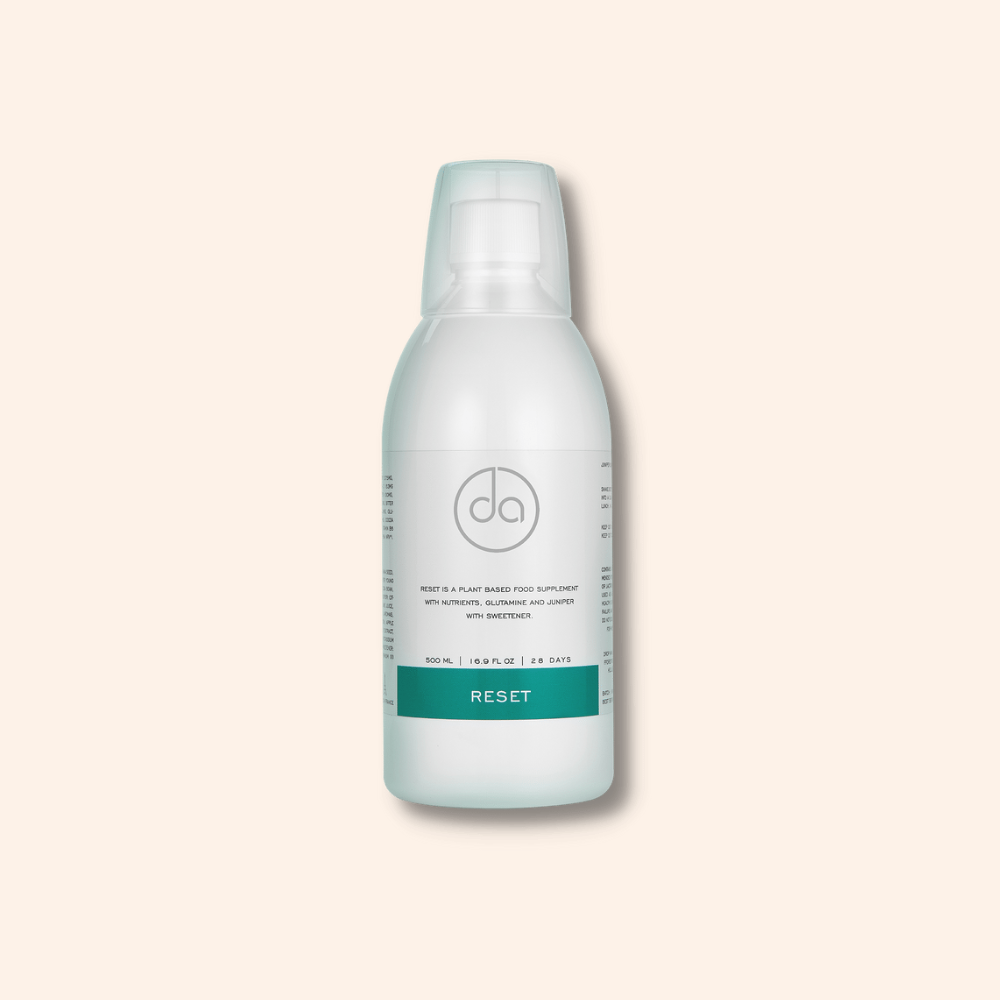 Reset Diet
Your Weight Loss Quick Fix
GREAT TO DROP A SIZE BEFORE AN UPCOMING EVENT
Reset is an exclusive blend of natural plant based active ingredients (12 phyto-actives and 4 nutri-elements) delivered to you in the form of a natural and quite frankly, delightful "peach tea" flavoured drink

Reset Comes with our special Reset Diet Plan which includes tips and recipe ideas to maximise your weight loss results.

Reset is a source of Chromium, Juniper, Vitamin B6 and Vitamin C.

Reset contributes to normal metabolism of sugars and fats, normal macronutrient metabolism, the maintenance of normal blood glucose levels, the excretory function of the kidneys, to normal protein and glycogen metabolism, normal energy yielding metabolism and to the reduction of tiredness and fatigue.
The Reset Diet Plan is designed to achieve fast results and therefore ideal if you want to lose some weight for an upcoming event.
Reset is formulated so you only need to take it once per day.

Simply dilute 17.5 ml of liquid into a glass of water (like you would do squash) and drink it after either breakfast or lunch. Once opened, just keep the bottle in the fridge.
Support is absolutely vital to your success. Did you know members of a weight loss group lose 3 times more weight compared to people trying to lose weight on their own? 


So don't forget to join our DAWL Facebook community for all the help, advice, inspiration you need….oh and even a little chat


In our support group, you'll find:


• Lots of recipes and meal plans
• Learn coping techniques
• Get inspiration, motivation and guidance
• Share successes and challenges


On top of all that, you can also get help speaking to one of our team over the phone, email, or even book a consultation.
Aqueous Plants Extract: Juniper Berry, Guarana Seed, Black Pepper Fruit, Red Pepper Fruit, Juniper Young Shoots, Bitter Orange Peel, Basil Leaf, Cocoa Bean, Black Radish Root, Parsley Leaf. Water. Acidifier: Citric Acid. L-Ascorbic Acid (Vitamin C). Concentrated Prune Juice. Natural Peach Aroma With Other Natural Aromas. Natural Tea Aroma. Apple Mix [Apple Pectin, Apple Dry Extract]. Glutamine. Grape Marc Dry Extract. Colour: E150C. Preservative: Potassium Sorbate. Sweetener: Aspartame. Thickening Agent: Xanthan Gum. Pyridoxine Hydrochloride (Vitamin B6). Chromium (Iii) Chloride. Contains A Source Of Phenylalanine.
Not intended for use by persons under the age of 18. Always consult your GP before taking food supplements. You should not take food supplements as a substitute for a varied balanced diet or healthy lifestyle. Not suitable for pregnant or lactating mothers.