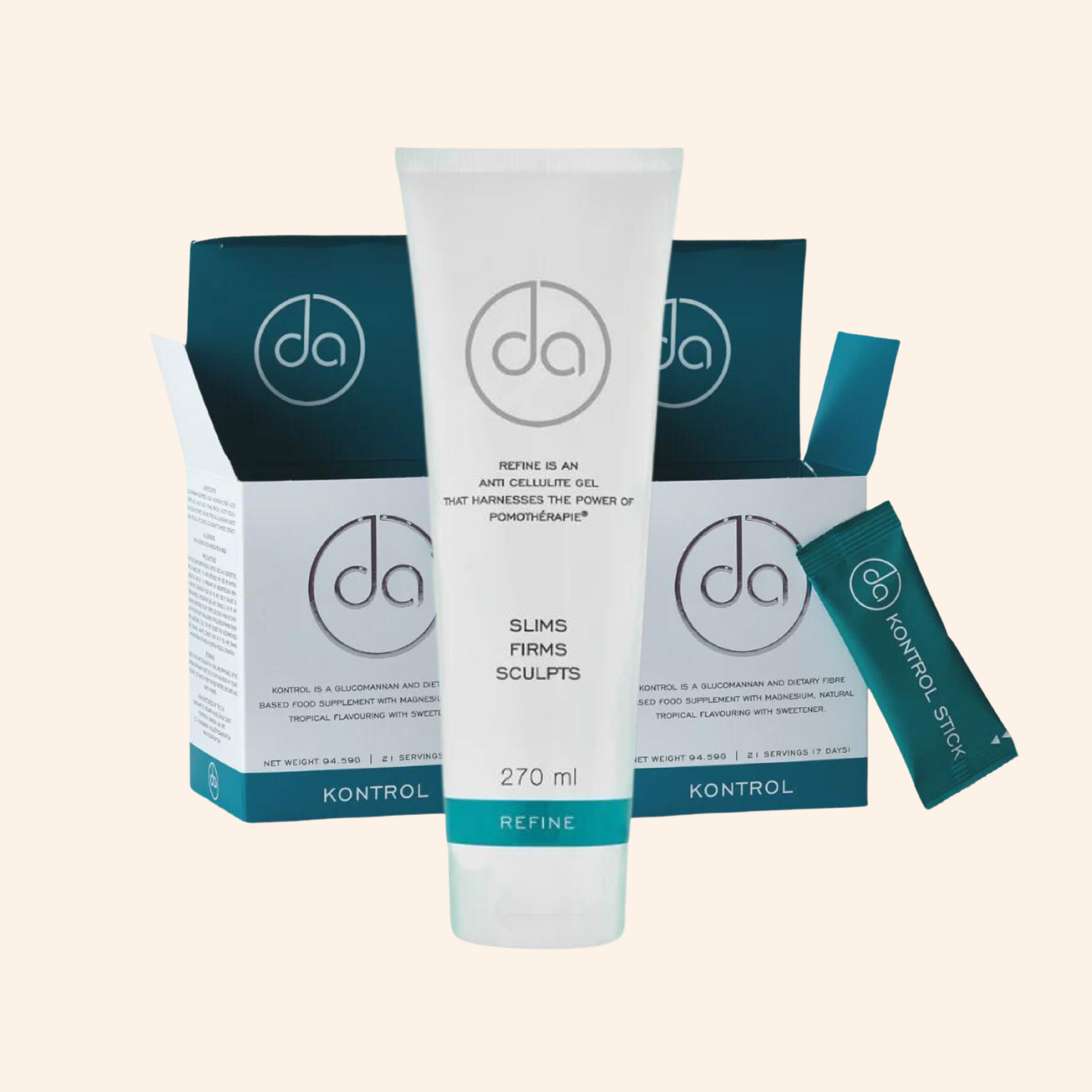 Holiday Bundle
EVERYTHING YOU NEED PRE, DURING AND POST HOLIDAY
GREAT FOR PRE HOLIDAY PREP
LESS WEIGHT GAIN ON HOLIDAY
HELPS TO LOSE THE HOLIDAY GAINS
Kontrol is a plant based tropical flavoured supplement used to make your weight loss/ maintenance journey a little easier. This easy to use, high fibre blend of Glucomannan and Inulin (a prebiotic fibre) has been neatly packed into mini sachet sticks for your convenience.

Kontrol helps create a feeling of fullness, and controls your food intake.

Refine contains a combination of proven cellulite fighting ingredients which target early and stubborn cellulite deposits. Refine Gel will help to decrease the formation and storage of fat, break down fat deposits and activate microcirculation to get rid of broken down fats, waste and toxins.

The complex Boost-LP (developed from Pomotherapie®) intensifies the fat burning action of caffeine and produces a slimming and firming effect. 

With its complete targeted triple action Refine decreases the formation and storage of fat.
Anyone who is going on holiday and wants to lose a bit of weight and smooth the appearance of cellulite before they go away.
Anyone who wants to slow down any weight gain on holiday
Anyone who wants to lose weight after a holiday.

Kontrol is suitable for anyone trying to lose weight. It will work alongside with any diet and is particularly good for Intermittent Fasting and Keto diets

So use Kontrol if -       

You get hungry between meals.

You are trying to cut down your portion sizes.        

You are cutting down on calories and need to control your appetite.

Even better, Kontrol also contains prebiotic fibres that help improve digestion while nurturing your healthy gut bacteria - and we are all about good gut health at DAWL.

REFINE is perfect for people who want to reduce cellulite and stubborn stomach fat. The results are proven!*

Up to 5cm loss around waist (average loss of 1.5cm)

Up to 2cm loss around thighs (average of 0.85cm)

*Average results of the efficacy study using brown algae complex, performed on 10 volunteers, after 21 days of twice daily application, or after 10 applications in a massage cabin.  
Kontrol is very simple to use.

Just empty one of the Kontrol Sticks into a glass of water, stir rapidly to mix, and drink the delightful tropical flavoured juice.

You'll start to feel full helping you from over eating and snacking.

You can use Kontrol between meals when you get hungry to stop you raiding the fridge/cupboards, or you can take it half an hour before your main meals to stop you overeating.

Apply REFINE to your thighs and waist twice per day, gently messaging it into the skin.
Support is absolutely vital to your success. Did you know members of a weight loss group lose 3 times more weight compared to people trying to lose weight on their own? 


So don't forget to join our DAWL Facebook community for all the help, advice, inspiration you need….oh and even a little chat


In our support group, you'll find:


• Lots of recipes and meal plans
• Learn coping techniques
• Get inspiration, motivation and guidance
• Share successes and challenges


On top of all that, you can also get help speaking to one of our team over the phone, email, or even book a consultation.
Kontrol: Glucomannan(Sulphites), Inulin, Magnesium Citrate, Acids (Citric Acid, Malic Acid), Prune Powder, Acidity Regulator (Sodium Citrate), Natural Tropical Flavouring, Sweetener (Steviol Glycosides), Turmeric Extract. Allergens: For Allergens See Ingredients In Bold.

Refine: Aqua (Water), Propylene Glycol, Denaturated Alcohol, Caffeine, Glycerol, Acrylates/C10-30 Alkyl Acrylate Crosspolymer, Aloe Barbadensis Leaf Juice, Hamamelis Virginiana (Witch Hazel) Water, Pyrus Malus (Apple), Fruit Extract, Sodium Hydroxide, Phenoxyethanol, Parfum (Fragrance), Nephelium Longana Seed Extract, Luminaria Digitate Extract, Aesculus Hippocastanum (Horse Chestnut) Extract, Empetrum Nigrum Fruit Juice, Ethylhexylglycerol, Hedera Helix (Ivy) Leaf Extract, Potassium Sorbate.

Pomotherapie®

Pomotherapie® is an exclusive concept – harnessing the well known health benefits derived from apples, and incorporating these into our range of health and beauty products.

After many years of research and scientific studies by Laboratoires Clemascience they have been able to isolate and concentrate a range of special apple polyphenols called Apple Nutricibles®.

These active molecules from the apple have been proven for their slimming, health and skincare benefits.
Not intended for use by persons under the age of 18. Always consult your GP before taking food supplements. You should not take food supplements as a substitute for a varied balanced diet or healthy lifestyle. Not suitable for pregnant or lactating mothers.

There could be a risk of choking for people with swallowing difficulties or when taken with inadequate fluid. Always follow with a second glass of water to ensure it reaches the stomach.